It's always such fun introducing a newbie to Portland.  There are so many lifestyle options, and I never know which one a person is going to pick.
John was moving from a busy metropolitan oasis, with nary an idea of where in PDX he should land.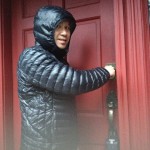 He had a fabulous short-term rental on the Eastside, and we had a bit of a time crunch. Not unlike many buyers, he was an employee of a Beaverton company and had to take into consideration the commute. Should he live on the Eastside and do that drive every day? What about North Portland, or perhaps should he land in trendy Orenco and live a suburban lifestyle?  It's always a hard call, and a purely subjective personal decision.. I do my best to guide, but sit back and not influence (well, too much).
As a complete fluke, a really cute home on a private treed lot popped up in Multnomah Village.  Now, we realtors know that
the "Vil-lage" is one of the few enclaves of trendy walk-ability with boutiques, bars, and coffee, in all of SW PDX,  so when you see a listing, you jump! I slightly cringed when I mentioned this house to John – it was indeed on the Westside, but not exactly as close to Beaverton as he might have wanted.  Would he be into it?
He took a look, HE LOVED IT. It was everything he didn't know he wanted! He'd found a Landing Place!
We wrote a strong offer and it was accepted, the whole thing went so smoothly that it really makes you wonder if sometimes these things are, as they say, 'meant to be'.   I gave John the key to his first home yesterday. It was a very good day! Congrats John!