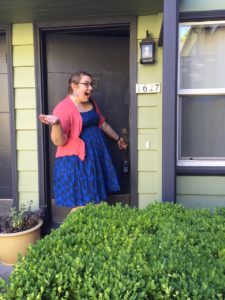 "I'm so excited to be out of the game!" She remarked as she twisted her new house key in the lock. And she had every reason to be. I started working with Jessie in the rainy season. We'd meet at condos on the weekend or in evenings, often in the rain and the cold, and several times she'd find one she liked enough to write an offer. We'd write our highest and best, add an escalation clause, remove contingencies, offer long closing dates –  bending backwards over sets of rooms that were once mere apartments, not much improved by ownership. The game was on, and it was a challenge just because it's a game played in the dark. It's a hand of poker and you can't even count cards!
Sure, it became frustrating but we persisted (and had some fun along the way), and if I believed in kismet (I actually might) I'd say that those really fantastic offers we wrote that we didn't win were for a reason. Sure they were great places, but they pale in comparison to the place Jessie ended up with.  If I were "floofy" and  overtly open-minded (I could be) I'd say perhaps the universe actually kept us from those others to find this much better place, a two-storied condo in a MUCH better locale, with greater resale potential, and a mere hop and skip to fine eateries, and the whole of the lower east side.  And Jessie agrees, in fact, she broached this idea herself.. This is the ONE.  It was the best and it was remarkably easy to secure. It just fit. You know, like the right things sometimes do.
So congratulations to Jessie on her very mature decision to play the game. We made it through the round of poker and now it's just the Game of Life. : )
Thanks you Jessie for allowing me to be your realtor. For letting me shake up that HOA with all the tough questions no one else bothered to ask. I am sure they'll love you and embrace your interest in their best interests. I am so happy for your new adventure, City Girl!
Sincerely,
Alyssa
Alyssa Starelli, Broker
www.aly-star.com
alyssa@livingroomre.com
503-888-1362